The Lede: How Do Students Engage With News?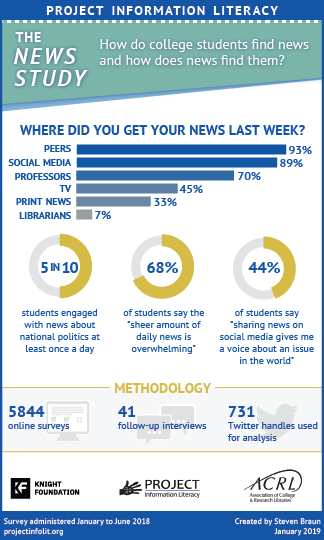 The news can be an overwhelming hodge-podge of headlines, posts, alerts, tweets, memes, visuals, and casual conversation –for students as well as faculty. Making sense of it is a tall order, especially when real and accurate content sometimes seems beyond description. How do students do it? Insights can be gained from a new report How Students Engage With News from Project Information Literacy (PIL), with five key research takeaways.
PIL is a nonprofit research institute that studies what students think and do in their digital lives. Based in the San Francisco Bay area, it pursues questions through and beyond higher education, when "information literacy" can become a life skill (such as: reading a lease). PIL has worked with 260 institutions: community colleges, land-grant universities, private colleges and universities, using mixed methods and analysis with full ethical review. It produces summaries of key findings, in-depth data, and makes recommendations.
Students do not approach news merely passively or at random. Some take deep dives; most recognize that engaging news requires effort to assemble and evaluate information. A 2016 study from Stanford showed students' inability to differentiate "fake news" from "real news," even at Stanford. Many other questions remain, and in two years many students have become far more savvy. PIL has discovered five takeaways:
There are many pathways to news—not only on social media.

News knows no personal boundaries, so students follow selectively.

Tension exists between idealized views of journalism and a distrust of news.

Students share news on social media as stewards of what's important to know.

Traditional standards for evaluating news are increasingly problematic.
How does this matter for teaching? Many of the skills that students develop (or attempt) involve evaluation of content, determining authority, and understanding context and nuance. These are all directly parallel to skills students need to learn in class. Professors can help teach "knowledge in action" by building such skills that extend from academic content to news media. Faculty should reconsider how we teach evaluation of sources, and bring discussion of the context of information –curricular, media—to the foreground. Faculty can also critique social media companies and the way they handle—or refuse to handle—news and the consequences of their platforms.
The News Study Report is timely, helpful, and a real contribution to these skills, habits, and dispositions that are so vital to our students' success in university and beyond. Tolle, lege: Take and read!